Special Events
Your special event deserves an exceptional venue. Our 27,000 square foot clubhouse is as versatile as it is visually impressive, showcasing a skillful blend of native stone and wood in contemporary application. It's a tribute to the stunning natural landscape on which The Marshes stands, and the unfailing dedication with which we serve our guests.
The atmosphere of style and warmth make our facilities the ideal place to entertain friends, family and business associates.  Whether it's a corporate event, wedding, party or civic function, The Marshes extends our one-of-a-kind experience to accommodate your desires. Choose from our informal Garden Terrace rooms, the breathtaking splendor of the Ironstone Grill, or the relaxed atmosphere of The Jones Lounge.
Our event planning specialists will help you every step of the way, from venue and meal selection, to accommodation options and extras. Your next unforgettable event starts here.
For more information or to arrange a personal tour
Call 613.271.3376
or email [email protected]
Need Guestrooms
Weddings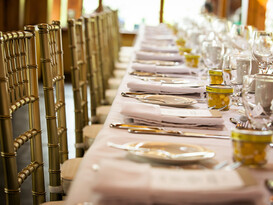 Tournaments
BECOME A MARSHES EMAIL MEMBER
Sign up for our eNewsletters today to be the first to know about latest specials, promotions, contests and updates.