Garden Terrace
This is where we gather. Whether you've come to play, come to party, come to dine, conference or kick back, The Marshes clubhouse is where it all starts. Our facility has everything you'd expect from a clubhouse at a first-rate golf course, but with one remarkable addition: it's not just any first-rate golf course. We're Ottawa region's premier golf course.
The Marshes clubhouse is renowned for its exceptional service and unbeatable amenities, which you'll encounter browsing the pro shop, enjoying a meal at the Ironstone Grill, or listening to our regular line-up of live music.
The clubhouse experience is capped off by our venue's breathtaking views of impeccably maintained greens and the wild beauty of the Gatineau Hills. These qualities combined have made our clubhouse a popular destination for weddings, conferences and other gatherings of all sizes.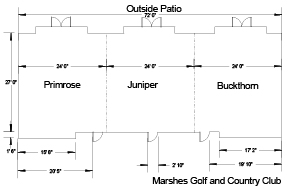 For further information and inquires please contact
Call 613.271.3376
See Inside
BECOME A MARSHES EMAIL MEMBER
Sign up for our eNewsletters today to be the first to know about latest specials, promotions, contests and updates.